Beth Gray
My motivating force is the opportunity to work with the client and other professionals, empowering all of us elevate our game, asking the right questions, solving problems & overcoming obstacles, to generate the best outcome for the client.
LL.B. (Hons.), Lic. en Derecho, M.B.L., M.Sc., mBIT Coach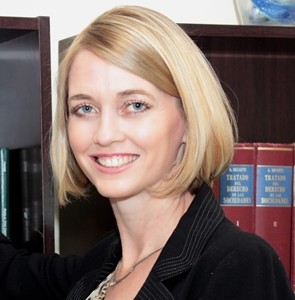 Managing Partner
---
Contact Information
tel. +507 2280916
Bar Admission (Panama)
November 2001
Areas of Expertise
Corporate Law
International Contracts
Cross-Border business organisations
International Tax
Real estate development activities
Tourism development activities
Environmental law
Estate Planning
Languages
Background
Beth Gray is the Managing Partner of Gray & Co., practicing mainly in the area of Corporate Law, with a focus on international transactions maximising the benefits of Panama's growing network of double taxation treaties.  She has a special interest in development projects in Panama that require her expertise in the overlapping areas of real estate, tourism development and environmental laws.
Ms. Gray received her LL.B. (Honours) from Waikato University (Hamilton, New Zealand), in 1996.  She embarked on an Overseas Experience which involved returning to her birthplace, Panama. After two years of a working holiday in Panama, she decided to study law under the Napoleonic system, graduating with her second law degree in 2001 (Lic. en Derecho y Ciencias Políticas).  Ms. Gray was admitted to the Bar in Panama in November 2001.  This was later followed by a Masters in Business Law in Panama from ADEN (2011) and a Masters in Science from Swiss Business School (Switzerland), 2012.
During the course of her studies, Beth has also undertaken training in a number of specialist areas:
Labor Arbitration Training (FMCS Institute, Potomac, MD 1999)
Specialization in Business Law (George Washington University, 2009)
Major in International Tax Planning (Stetson University, 2009)
Specialization in Business Law (University of San Francisco, 2010)
Panamanian Public Registry (Universidad Latina, 2012)
Since completing her legal training, Ms. Gray has also undertaken studies in leadership and coaching, which allow her to focus her questions and team management.
Introduction to Coaching (2013)
Integrative Coaching Experience (2013)
Reaching Your Goals (2014)
Certified mBIT Coach (2018)
She has also published some of her work internationally, such as "Panamanian Securities Legislation: Transparency & Accountability" in the Comparative Law Yearbook of International Business – Volume 2004 published by Kluwer Law International (Center for International Legal Studies, 2005). Before establishing Gray & Co. in 2004, Ms. Gray worked in a Panamanian firm with a BVI Trust Company where she was responsible for corporate matters and the oversight of the Trust Company matters. She is a member of UNA (Unión Nacional de Abogadas) as well as Congress of Fellows (Centre for International Legal Studies).